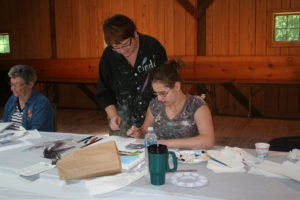 Please read our policy and registration procedures. You may call 814-927-6655 to check availability of classes or to pre-register over the phone. Complete and mail in our registration form to register by mail. 
*Due to limited class spaces, your request to register does not guarantee placement. Placement is granted on a first-come, first-served basis. Should the registration for a class become full, we will maintain a waiting list in case of withdrawals.
A 50% deposit of the CLASS FEE ONLY (by cash, check or credit card – Visa, MasterCard or Discover) is required – please DO NOT include material fees. The remainder of the class fee will be collected per our policy. Material fees as noted are collected by the instructor on the day of the class.
Please click here for the complete Sawmill Center Calendar of events, performances, and classes.