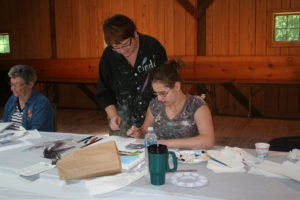 Sawmill Center for the Arts offers a variety of classes in traditional art forms.  From painting to wood carving, quilting to jewelry making, we offer something for everyone.  Whether you are looking to start a new hobby or you are honing a skill you've had for decades, the Sawmill Center is committed to helping you express your creativity.
Pre-registration is required for all our classes, and a 50% deposit will hold your seat.  Register by calling our office at (814) 927-6655.  The remaining 50% and any materials fees will be collected the first day of the class.  Payments may be made by check or credit card.  We have a no refund policy, meaning your deposit will not be returned if you are unable to attend.  If the Sawmill Center cancels a class, a full refund will be issued.
Please click here for the complete Sawmill Center Calendar of events, performances, and classes.
13

13.September.Wednesday

http://sawmill.org/event/barn-quilt-class/

Barn Quilt Painting
2'x2 or' 4'x4′
Sept.13-15
Class Fee $70  small or $120 large

State Rte 1015, Cooksburg, PA 16217, USA

State Rte 1015, Cooksburg, PA 16217, USA

http://sawmill.org/event/yoga/

Join us for Yoga Wednesdays at Sawmill Art Center
Gentle Yoga w/Aromatherapy

Desiree Zeller, Licensed Massage Therapist, Certified Aromatherapist and Yoga Teacher, will lead this unique yoga class designed to help manage stress, anxiety, pain and tension. A gentle yoga sequence will be integrated with deep breathing, aromatherapy and acupressure holds. You will surely feel rejuvenated for the day ahead. Please bring a small blanket and a yoga mat, if you have one. Please consult with your physician before starting any wellness program.

Wednesdays 5:30-6:30 p.m.
September 13-October 11
Drop-in Rate $15
Advance pay for all 5 classes $60 ($12/class)
Classes for 2018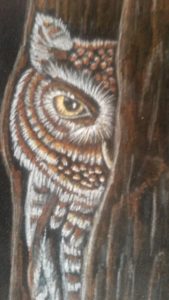 Colored Pencil Class ~ "Peekaboo Owl"
Saturday, June 23, 10 a.m. – 4 p.m.
Suitable for all levels (beginner to expert)
$35
Instructor:  Janine Stiffler