Welcome to the Verna Leith Sawmill Theater!
Join us for a night or for the season for a variety of theater performances! Season tickets are available for $154.00. Most shows start at 8 pm unless otherwise noted below. Call or email to reserve your tickets today! Emailed reservations are not guaranteed until you receive a confirmation by return email or by phone.
Folk Music Festival
May 13, 2017 at 1 pm to 4 pm                           Registration at 12 pm
Rain or Shine! Fiddle, Guitar, Banjo and Mandolin Contest. Three divisions. Verdors will be available to sell their wares and artists will display and demonstrate their work.
Admission: Free
Charlie Wheeler Band
May 27, 2017 at 8 pm
The hills of Northern PA are an unforgiving place. Hailing from Ridgway, PA, the Charlie Wheeler Band exudes a toughness and desperation that can only be cultivated in the working class environs from which they hail. Their driving brand of hard driving groove-rock is reminiscent of the Black Crowes and The Allman Brothers Band, coupled with the blunt force of Pearl Jam.
Admission: $15.00
Hootenanny!
June 15, 16, & 17, 2017 at 8 pm
June 22, 23, & 24, 2017 at 8 pm
Comedy
Performed by: Clarion Community Theatre
Admission: $15.00
Clue: The Musical
June 29, 30, & July 1, 2017 at 8 pm
July 6, 7, & 8 at 8 pm
Musical - The internationally popular game, Parker Bros. CLUE, is now a fun filled musical which brings the world's best-known suspects to life and invites the audience to help solve the mystery: who killed Mr. Boddy, in what room and with what weapon. How will it all play out? Hard to say when there are 216 possible solutions! Comic antics, witty lyrics and a beguiling score carry the investigation from room to room. Even after the culprit confesses, the game is still not over. Both the audience and an onsite detective help sort out the deadly game play to determine who is behind the demise of Mr. Boddy.
Performed by: Punxsutawney Theatre Arts Guild
Admission: $15.00
Godspell
July 13, 14, & 15, 2017 at 8 pm
Musical
Performed by: Reitz Theater Group
Admission: $15.00
To Be Determined
July 19, 20, 21, & 22, 2017 at 8 pm
Performed by: Knox Community Theatre
Admission: $15.00
Cathedral: The Fight to Save the Ancient Hemlocks of Cook Forest
July 28 & 29, 2017 at 8 pm
Documentary - Cathedral: The Fight to Save the Ancient Hemlocks of Cook Forest is a high-definition short film about the ancient trees of Cook Forest State Park, Pennsylvania, which are under attack from the Hemlock Woolly Adelgid, a destructive insect that gravely threatens the forest. Its cathedral of towering white pines and hemlocks is a National Natural Landmark. The film covers the threats to the forest and efforts to combat the invasive insect. The film's primary purpose is to educate the widest possible audience about this issue, to inspire action, and to raise money for the treatment of the trees.
Produced by: Wild Excellence Films
Admission: $15.00
Peter Pan
August 3, 4, & 5, 2017 at 8 pm
August 10, 11, & 12, 2017 at 8 pm
Musical
Performed by: Brookville Community Theatre
Admission: $15.00
Arlene's Beauty World
August 31 & September 1 & 2, 2017 at 8 pm
September 7, 8, & 9, 2017 at 8 pm
Comedy
Performed by: Clarion Community Theatre
Admission: $15.00
Great Gift or Memorial for a Loved One
The Verna Leith Sawmill Theatre is offering the purchase of name plates to be attached to either a seat ($250) or to a plaque ($100) hung on the wall of theater.  All contributions are tax deductible. Please call us for more information.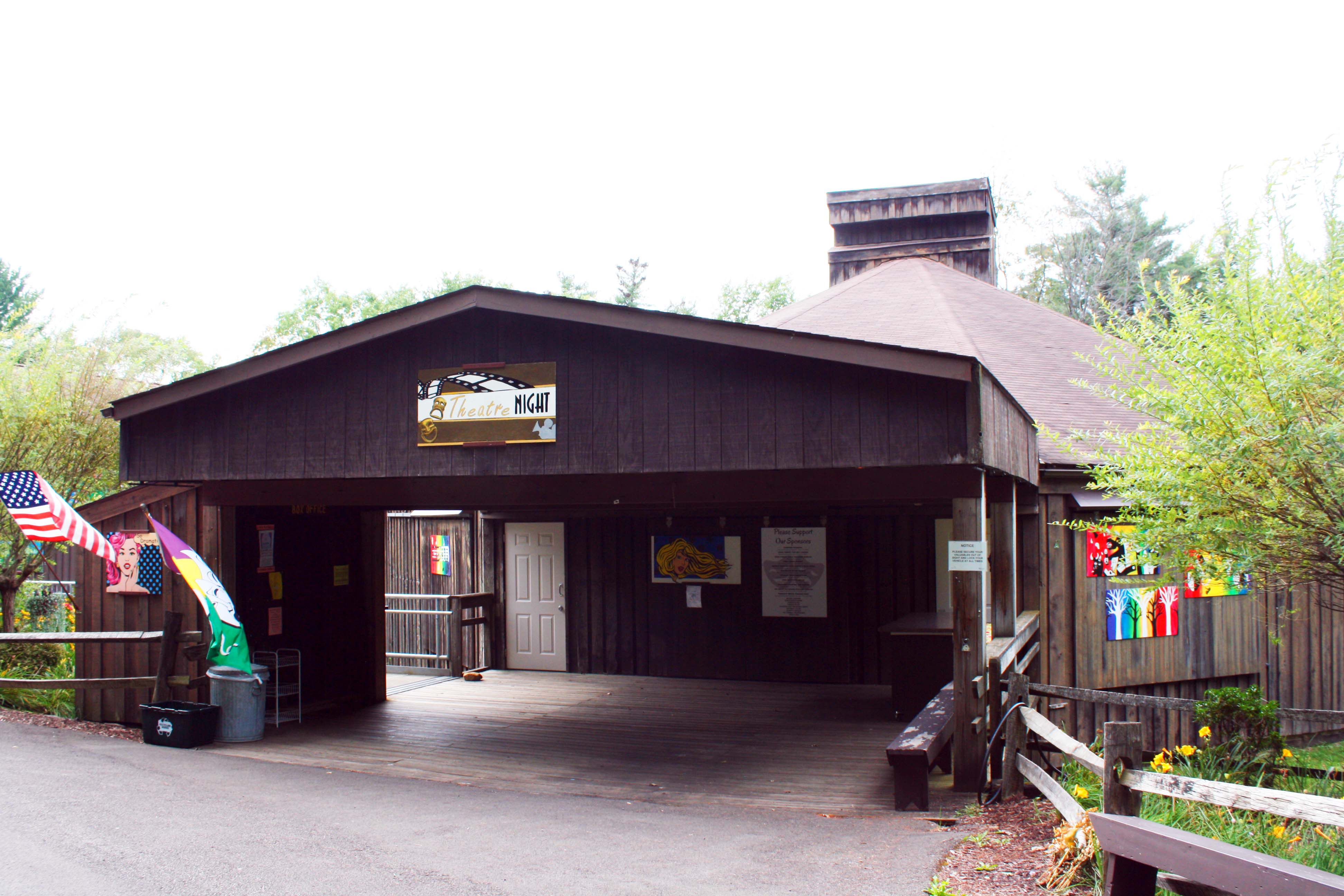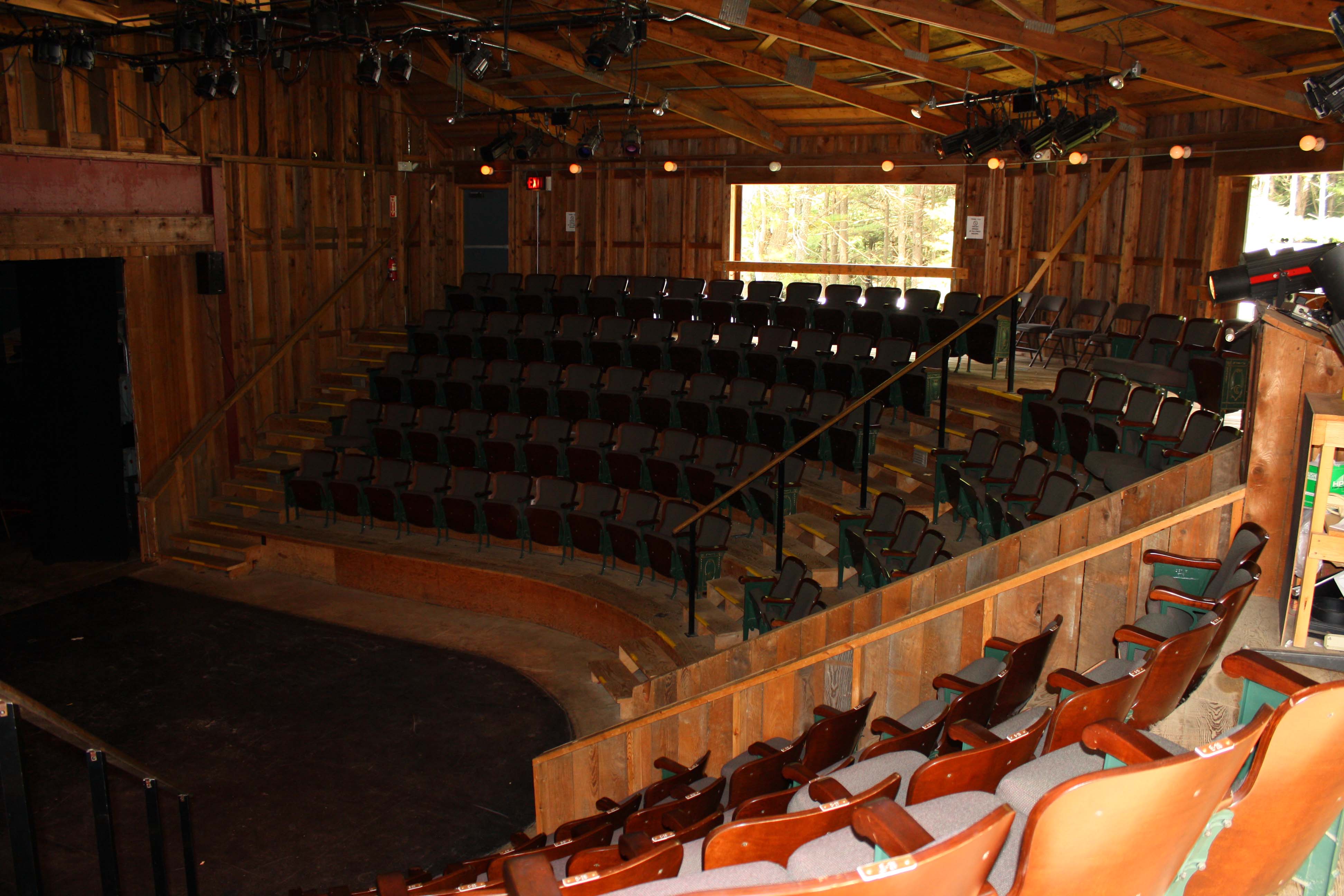 Sawmill Theatre History
In 1981, the Sawmill Theatre was opened in the museum section of the old Sawmill, using church pews and camp chairs for seating. Soon the need for a larger theater was evident.  In 1984, the Verna Leith Sawmill Theatre was constructed with monies from the Appalachian Regional Commission and Pennsylvania State Appropriations. First of it's kind in the Eastern U.S., the theater's unique hexagon shape and harmonious blend with the natural settings earned designer William Snyder the 1984 design award from the Arts Architectural Commission of Pennsylvania. Details such as professional lighting, side decks, ticket office, and interior restrooms were added in 1988. Theater patrons find themselves seated on newly refurbished seats from the Silver Fox Playhouse in Foxburg.  Offering mystery, comedy, and major Broadway musicals, Northwestern Pennsylvania theater groups perform from late May through mid-September.