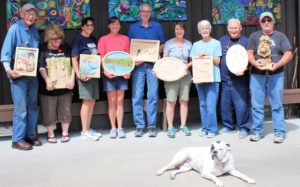 Sawmill Center for the Arts offers a variety of classes in traditional art forms.  From painting to wood carving, quilting to jewelry making, we offer something for everyone.  Whether you are looking to start a new hobby or you are honing a skill you've had for decades, the Sawmill Center is committed to helping you express your creativity.
Pre-registration is required for all our classes, and a 50% deposit will hold your seat.  Register by calling our office at (814) 927-6655.  The remaining 50% and any materials fees will be collected the first day of the class.  Payments may be made by check or credit card.  We have a no refund policy, meaning your deposit will not be returned if you are unable to attend.  If the Sawmill Center cancels a class, a full refund will be issued.
Please bring a snack, drink or lunch with you. There are local restaurants we can order from as well. We have coffee and tea available .
Please click the link below for the complete Sawmill Center class list.
 Come join us in the 2018 Classes, Learn an art form , and make new friends!
Gentle Yoga with Aromatherapy ~  Wednesdays ~ July 11th through August 8th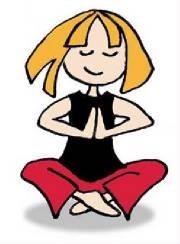 This unique yoga class designed to help you manage stress, anxiety and tension. A gentle yoga sequence will be integrated with deep breathing , aromatherapy and accupressure holds. You will surely feel rejuvenated for the evening and day ahead. Please consult your physician before starting any wellness program.
Classes are $10 if you advance pay for all 7 ( $70 )
Drop ins are welcome for $12
Classes are all on Wednesday at 5:30 -6:30
June 20th, June 27th (No class on July 4th) July 11th,July 18th, July 25th, August 1rst, August 8th
Instructor : Desiree Zeller, Licensed Massage Therapist, Certified Aromatherapist and Yoga Teacher.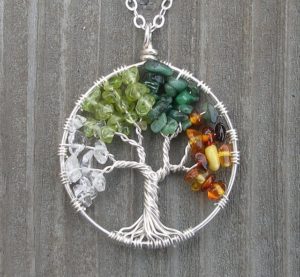 Tree of Life Pendant ~ July 11th Wednesday 1:30 -3:30
Come and make this lovely tree of life pendant in this 2 hour class!
Class fee $35 materials included.
Teacher:Jer Leggieri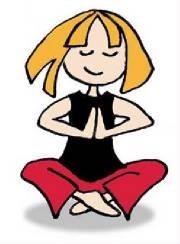 Yoga with Aromatherapy ~ Wednesday 5:30-6:30  July 11th

                                    Weaving Class ~ Saturday July 21rst ,10am-4pm
Weave rainbow colors into this classic broom handle.
The picture doesn't do it justice, this is gorgeous! You will get tons of compliments on this.
Class Fee $25  Material Fee $15
Teacher: Kathy Seamans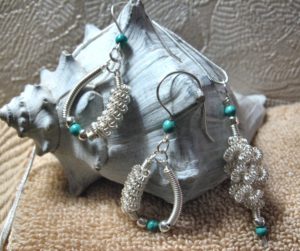 Perfectly Twisted Pendant & Earrings ~ Wednesday, July 25th 1:30-3:30
Come make this beautiful set with wire and beads, in just 2 hours.
Class fee $35
Teacher: Jeri Leggieri
July 25th Yoga 5:30 -6:30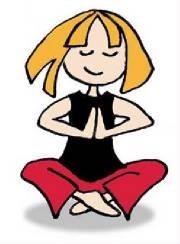 Gentle Yoga with Aromatherapy
Class Fee $10 prepays -$12 drop in
Instructor: Desiree Zeller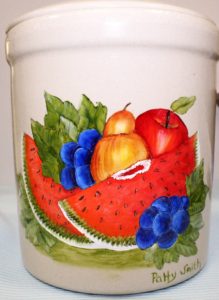 Mixed Fruit On Utensil  Crock Thursday, July 26th 10am-4pm 
Learn how to paint fruit with oil paints on pottery.
This is a very practical , beautiful and very useful class.
Class Fee $45
Teacher: Patty Smith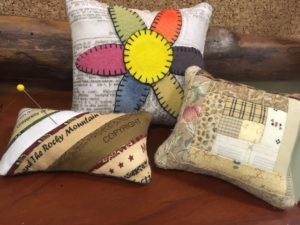 Sewing Make & Take it class( Quilted Pin cushions) Friday July 27th 10an -2pm
If you want to learn the basics of Quilting techniques or brush up on yours, this class is for you!
This pin cushion is the perfect introduction to Quitting and technique. A kit will be provided for all students.
A wool applique' design will also be available.
Class Fee $ 15 Material $10
Teacher: Lady Charli Thompson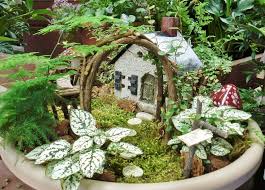 Making A Fairy Garden ~ Friday July 27th 1pm-2:30pm
Everything you need will be provided to make a 12″ container which will include 6 miniature plant , a nice community for your Fairies!
Class Fee $20 Material Fee $ 25
Teacher: Kathy Deible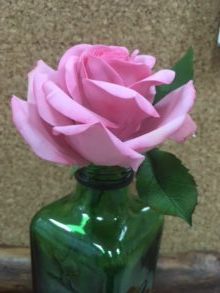 Cold Porcelain Rose,  Saturday July 28th 10am-2pm   
Discover the newest art material, Cold Porcelain! Made from common household ingredients. You will transform your clay into a life-like Lily with step-by-step instructions from cold porcelain artist, Amanda Lewis. During this class you will learn how  make delicate Lily stamens & wire petals to create that signature Lily shape.She will also teach you how to paint your lilies, create leaves and buds and even water droplets. Plus you will get advice on locating tools and materials. Everything is included. Sells out quickly, Amanda is a Master Artist and teacher.
Class Fee $48  Class is limited to 6 students
Teacher: Amanda Lewis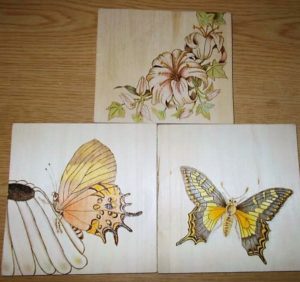 Pyrography( Wood Burning) Thursday & Friday ~ August 2nd & 3rd 10am-5p
Karen Brown will teach you how to burn beautiful images in wood. You will be making wooden tiles in this class. Karen has won many contests and is coming to us for the first time from the great state of Michigan. Come and join us in this cool burning class. If you don't have a wood burner,call us.
Class Fee $150
Teacher: Karen Brown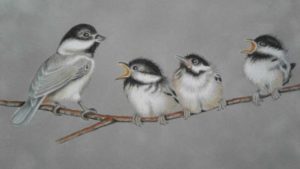 Chickadee in Colored Pencil ~ Saturday August 4th ~ 10am-4pm 
Come make this beautiful rendition of chirping birds on a limb. You will get all you pencils                       to keep and a mate border to frame your art.
Class fee $30 Material fee $17
Instructor: Janine Stiffler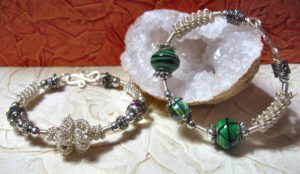 Inspired by the Pandora bracelet ~ Wednesday August 8th 1:30-3:30
Learn to make this lovely bracelet, your choice of beads. The teacher has everything you need, just show up and leave with a great new bracelet to show off ,that you made in this 2 hour fun class.
All levels are welcome, beginners to advanced.
Class Fee $35
Teacher: Jeri Legggieri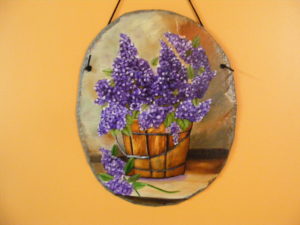 Lilacs on Slate ~ Thursday , August 9th ~ 10am-4pm
Come paint these lovely Lilac flowers with oil on slate.
Class Fee $45
Teacher: Patty Smith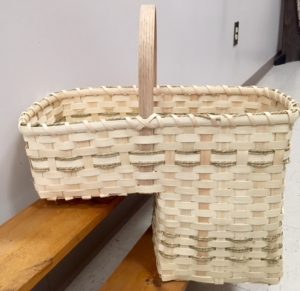 Large Step Basket Weaving Class ~ Saturday, August 11th 10am- 4pm
This basket is big and beautiful !  It is designed to place on step to hold your goodies.
Class Fee $20 Material fee $ 25
Teacher: Kathy Seamans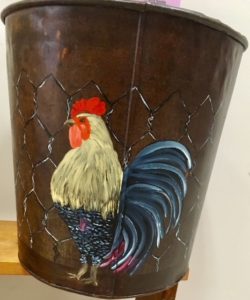 Rooster Painted on a Vintage Sap Bucket ~  Thursday August 16th ~10am-4pm
Come join us for this oil painting class. It is painted on a vintage, antique maple sap bucket. Its very practical and shabby sheek lovely
The bucket is 11" x 11"
Class Fee $ 45
Teacher: Patty Smith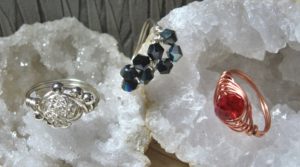 Three Elegant Rings~ Wednesday August 22 ~ 1:30-3:30
In just 2 hours you can make yourself 3 new sophisticated rings. Beginners welcome!
Class fee $35
Teacher: Jer Leggieri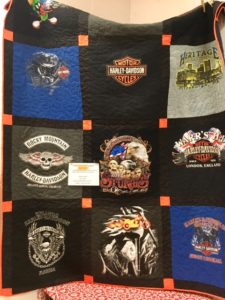 T-Shirt Quilt Making Class ~ Fri-Sun ~ August 23-25th ~ 10am-3pm
Saved all those event t-shirt? Make a Quilt out of them.  You will become very popular , these are hot item on the want for Christmas list!
This is the largest art piece we are offering this year. Makes an awesome gift for your kids or grandkids.
All you need is the 12- 15 or so T-shirts (depending on the size of the Quilt resired, and size of the T-shirts).
Jamie has all the pressing equipment . She is a professional T-Shirt Quilter.
Class Fee $150 Material fee $15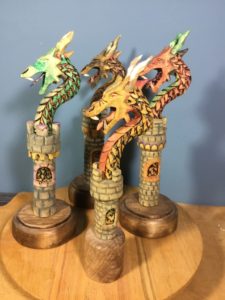 Dragon Wood Carving Class ~ Wed.-Fri.August 29-31rst ~ 10am-4pm
Come carve this colorful dragon for your walking stick or your favorite Dragon lover. Ken will help you carve up a masterpiece. Hand carving tool class.
Class Fee $150 Material fee $10
Teacher : Ken Kohl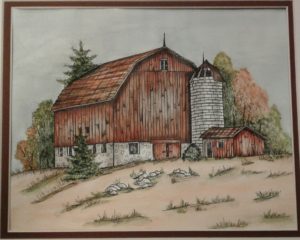 Old Barn Watercolor and Ink ~ Saturday, September 1rst 10am-4pm
This beautiful old barn watercolor class is for those who have taken one of Janines classes before or a painting class .
You will have your choice of mats for your art.
Class fee $30 Material Fee $11
Teacher: Janine Stiffler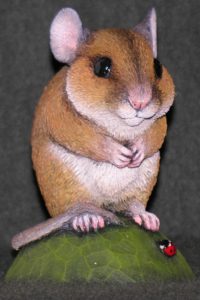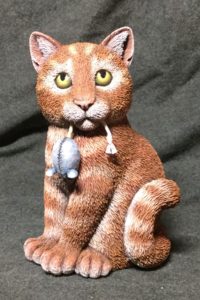 Realistic Animals Wood Carving ~ Monday thru Friday ~  September 3-7th ~ 9am-4pm
Come carve realistic animals with Leah. Pick out a blank and go home with a beautiful animal ! Leah has been featured in many wood carving magazines. Hand carving
Class Fee $275 Material Fee Varies with project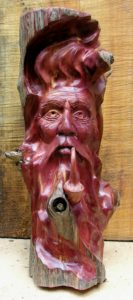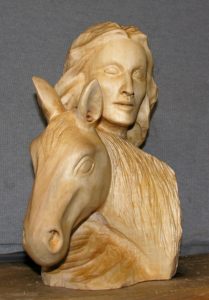 Realistic People Wood Carving  ~ Monday thru Friday ~ September 3-7th~ 9  9am-4pm
You can learn to learn to carve a realist person in this class. Chris will use power and or hand carving tools. You choose your subject, he will help you create a wonderful being in this week-long class.
Class Fee $275 Materia Fee varies on subject blank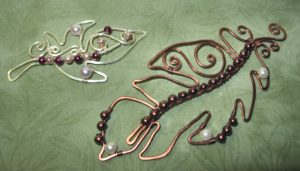 Feather Pin Class ~ Wednesday September 12th ~ 1:30-3:30
Make your Jacket, Coat or Sweater pop, with this lovely feather pin.
Class Fee $35
Teacher : Jer Leggieri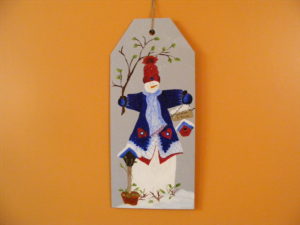 Snowman on Wood ~Thursday ~  September 13th 10am-4pm
Paint this whimsical Snowman in oil on this wooden surface . It will become a favorite winter decoration for years.
Class Fee $45
Teacher : Patty Smith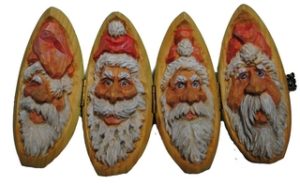 Relief Carving ~ Thursday-Sunday ~ September 20th-22nd
9am-5pm
Pick you own project in this weekend Relief carving class with our favorite refliev carver.
Class Fee $225 Material fee varies
Teacher : Bob Stadtlander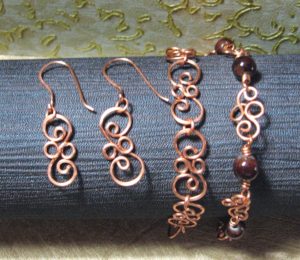 Design Elements Bracelet & Earrings ~ Wednesday, September 26th 1:30 -3:30
Make these beautiful matching set for yourself or a gift in this two hour class.
Beginners Welcome as well as advanced.
Class Fee $35
Teacher :Jeri Leggieri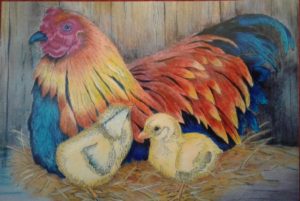 Watercolor Class ~ Rooster & Pees ~ Saturday, Sept 29th 10am-4pm
This is a class for someone who has some experience  in water color or painting. Your choice of matting for your piece.
Class Fee $30 Material Fee $ 11
Teacher: Janine Stiffler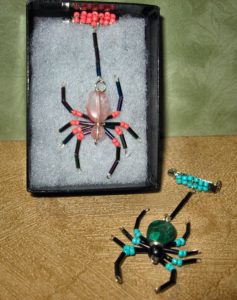 Spider Dangle Pin & Earrings
Come get in the spirit of Halloween with the making of these spider for your fall jacket .
Beginners welcome. Class fee $ 35
Teacher: Jer Leggieri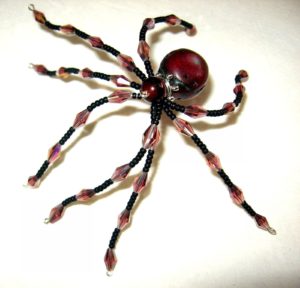 The Legionary Spider of Christmas~ Wednesday~ Oct. 24th  1:30 -3:30
Class Fee $35
Teacher : Jer Leggieri
Last class of the 2018 Season. Come join us after class for an end of the Season potluck celebration
right after this class!