Welcome to the Verna Leith Sawmill Theater!
Join us for a night or for the season for a variety of theater performances!  Seats are $15 each or season tickets are available for $135.00. Most evening performances begin at 8 pm and matinees are at 2 p.m. We will announce when 2019 tickets are available.  Once available, tickets may be ordered online, by calling (814) 927-6655, or by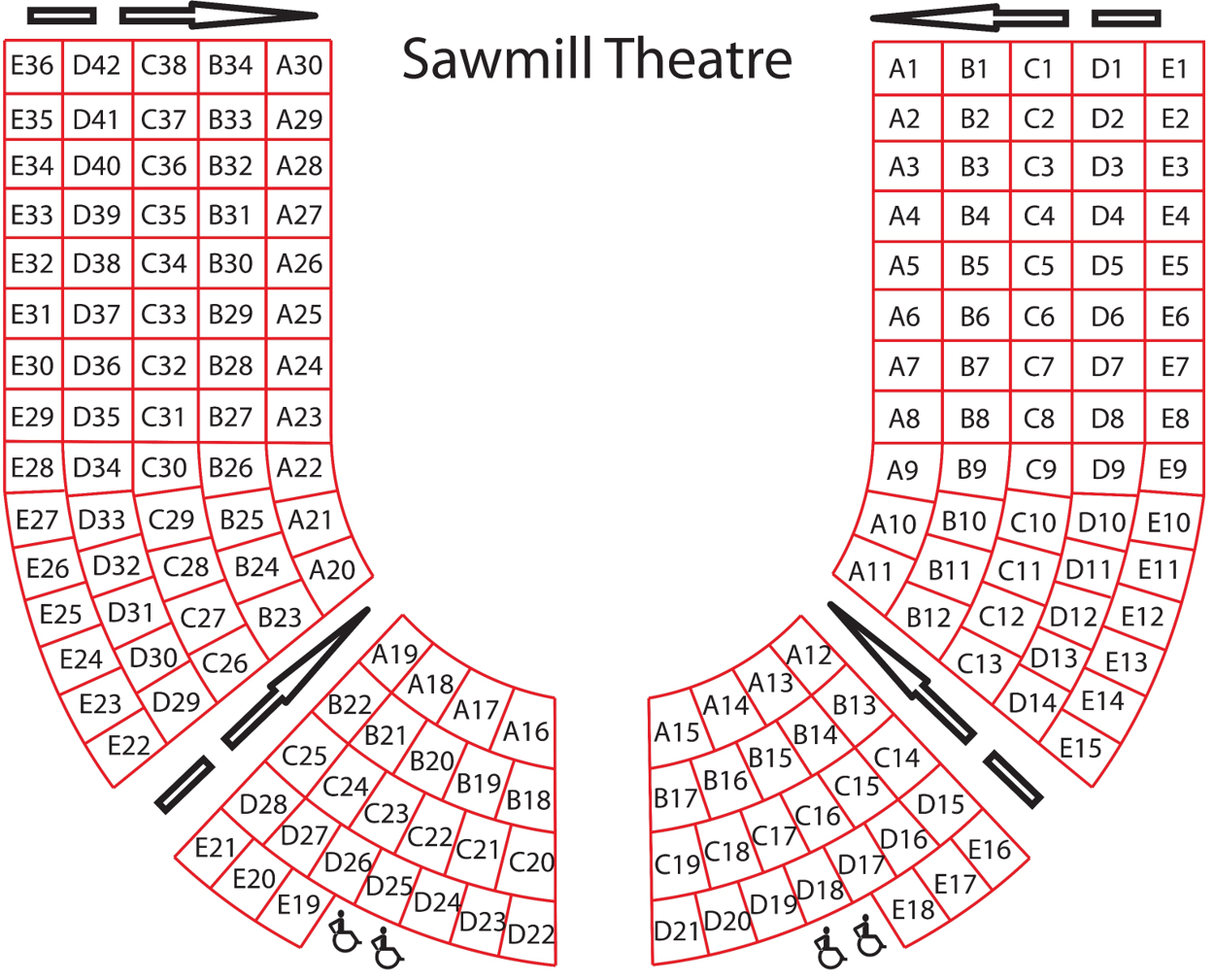 email (emailed reservations are not guaranteed until you receive a confirmation by return email or by phone).
You can now reserve specific seats when you order your tickets online by clicking on "Buy Tickets" below as they become available. Online ticket sales are available until 2 hours prior to a performance and then they can be purchased at the box office if available.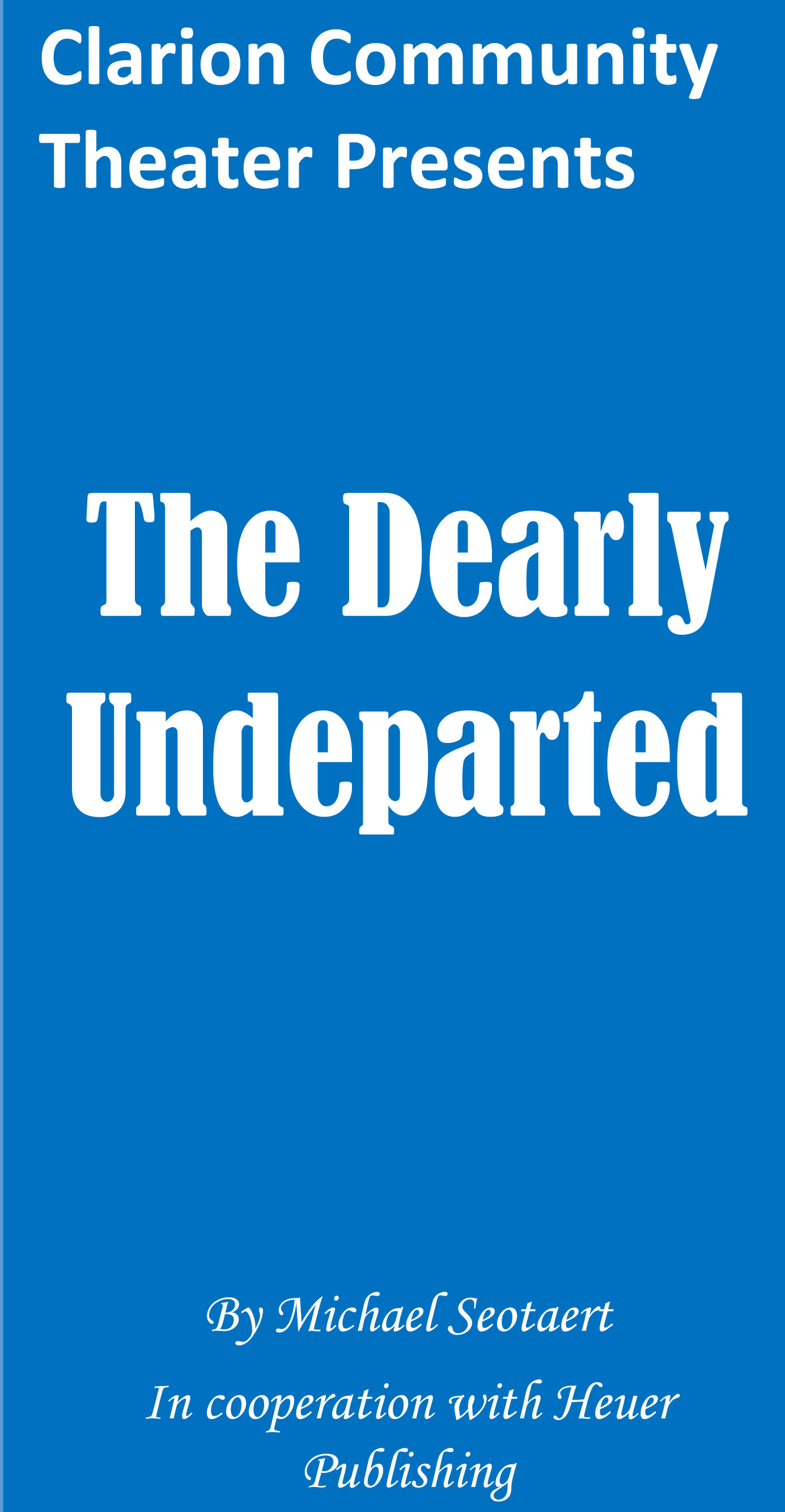 "The Dearly Undeparted"

June 13, 14, 15, 20, 21, & 22, 2019 at 8 p.m.
Tickets: $15
Genre: Comedy
Presented by: Clarion Community Theater 
"It's just an innocent omission, a little white lie; it's for her own good anyway. When grandma refuses to move to a nursing home to make room for her greedy relatives, they hold a fake seance so grandpa will tell her she should leave right away.  But what would happen if the seance actually worked, and a stranger came over from the other side and liked it so much he never wanted to leave!?"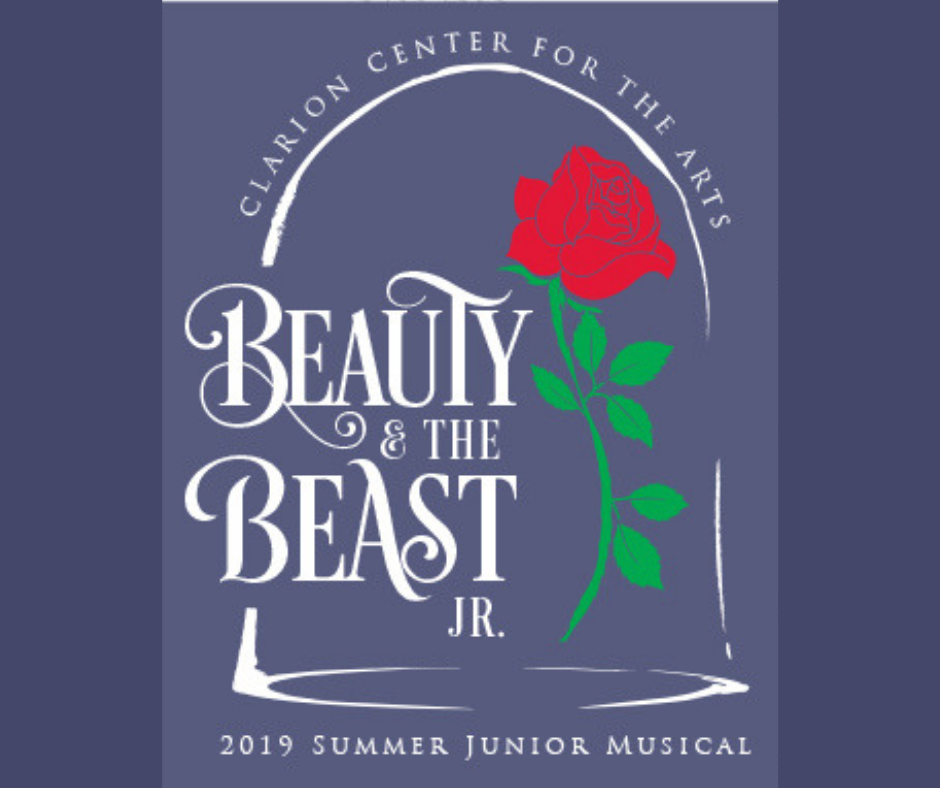 "Beauty and the Beast Jr."
Saturday Matinee on June 29 at 2 p.m.
Tickets: $15 
Presented by: Clarion Center for the Arts
"The classic story tells of Belle, a young woman in a provincial town, and the Beast, who is really a young prince trapped under the spell of an enchantress. If the Beast can learn to love and be loved, the curse will end and he will be transformed to his former self. But time is running out. If the Beast does not learn his lesson soon, he and his household will be doomed for all eternity."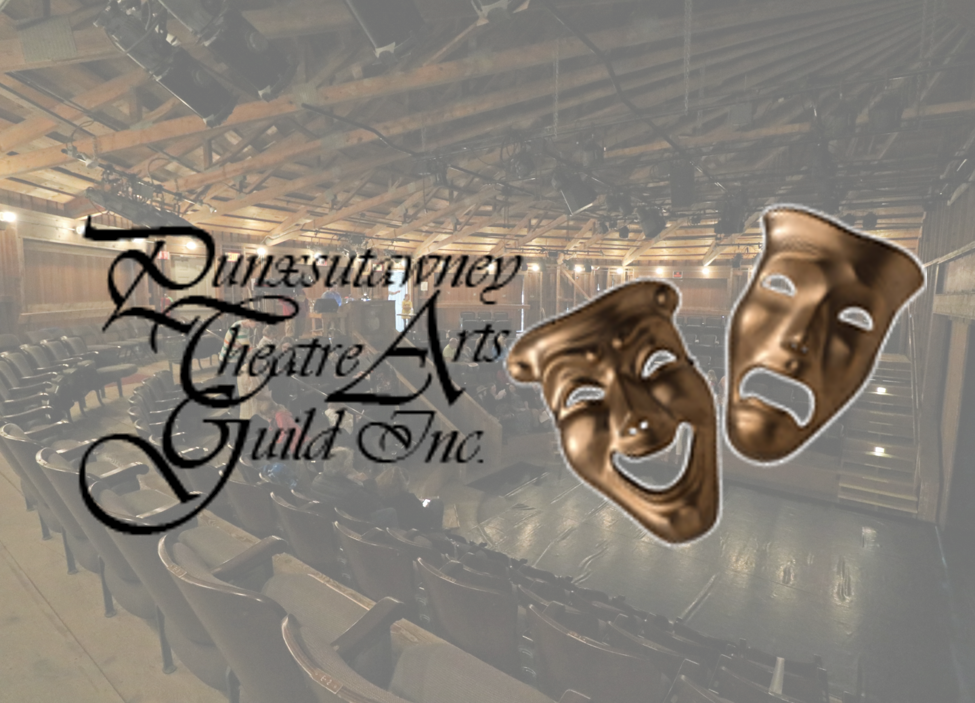 "Many Moons" & "The Thirteen Clocks"

July 4, 5, & 6, 2019 at 8 p.m.
Tickets: $15 
Presented by: Punxsutawney Theatre Arts Guild
The Punxsutawney Theatre Arts Guild provides some fairy tale magic to you this summer and it is two for the price of one! A small troupe of adults & youth give you a double dose of James Thurber, 20th Century American humorist, with the following shows.
"Many Moons"
Dramatized by Charlotte B. Chorpenning and based on the James Thurber short story through The Dramatic Publishing Company
Princess Lenore has fallen mortally ill.  Her pulse grows weak and she won't even touch her beloved raspberry tarts. It is determined that she is suffering from some mysterious, un-nameable longing and so when she finally asks for the moon, her distraught father tells her she can have it.  The King frantically turns to his Wise Men, but none of them have any idea of even how large the moon is, let alone how to get it.  Finally, it is the Court Jester who acquires the "moon" for the Princess and imparts a lovely bit of philosophy.
"The Thirteen Clocks"
by Fred Sadoff and Marc Bucci  based on the James Thurber short story through Music Theatre International
It is a one-hour musical to finish the evening. When an evil Duke captures a beautiful Princess, her beloved Prince must find one thousand jewels and unfreeze thirteen clocks that the Duke has stopped. If he fails, the Prince will be devoured by the invisible Todal. With the help of a fumbling sprite named Golux and an old woman whose tears turn to gems, the Prince frees the Princess, leaving the evil Duke to the terrible Todal. A masterpiece of make-believe, "The Thirteen Clocks" is a charming, whimsical work in the tradition of Lewis Carroll and L. Frank Baum.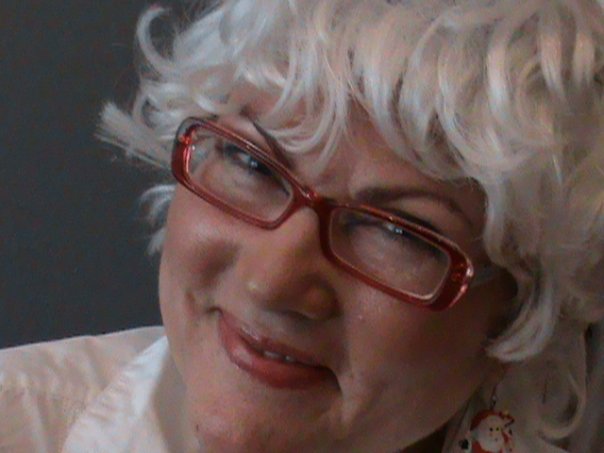 "All She Wants For Christmas- the Musical"

Tickets: $15
Presented by: Enchante' Cabaret
It's Christmas Eve and Mrs Claus is home with the elves awaiting the return of  Santa. While baking (burning) her famous cookies she reminisces about all of the things that make this season her favorite; especially the MUSIC.  Mrs Claus gives us the in's and out's of all the daily operations of Santa's workshop.  All of the holiday cheer is quickly put aside as  Santa is caught in a terrible winter storm threatening his return home for the first time EVER!  This fun and classy Christmas show is packed with all of your holiday favorite songs and a few  Broadway hits too! Is Santa going to return to Mrs Claus in one piece? Can Mrs Claus keep it together or will the Elves continue to act out in rebellion?  Come and share your holidays with the woman who runs the show and experience the true meaning of Christmas through the eyes of Mrs Claus. Hear the incomparable Todd Wagner sing all your Holiday favorites and more.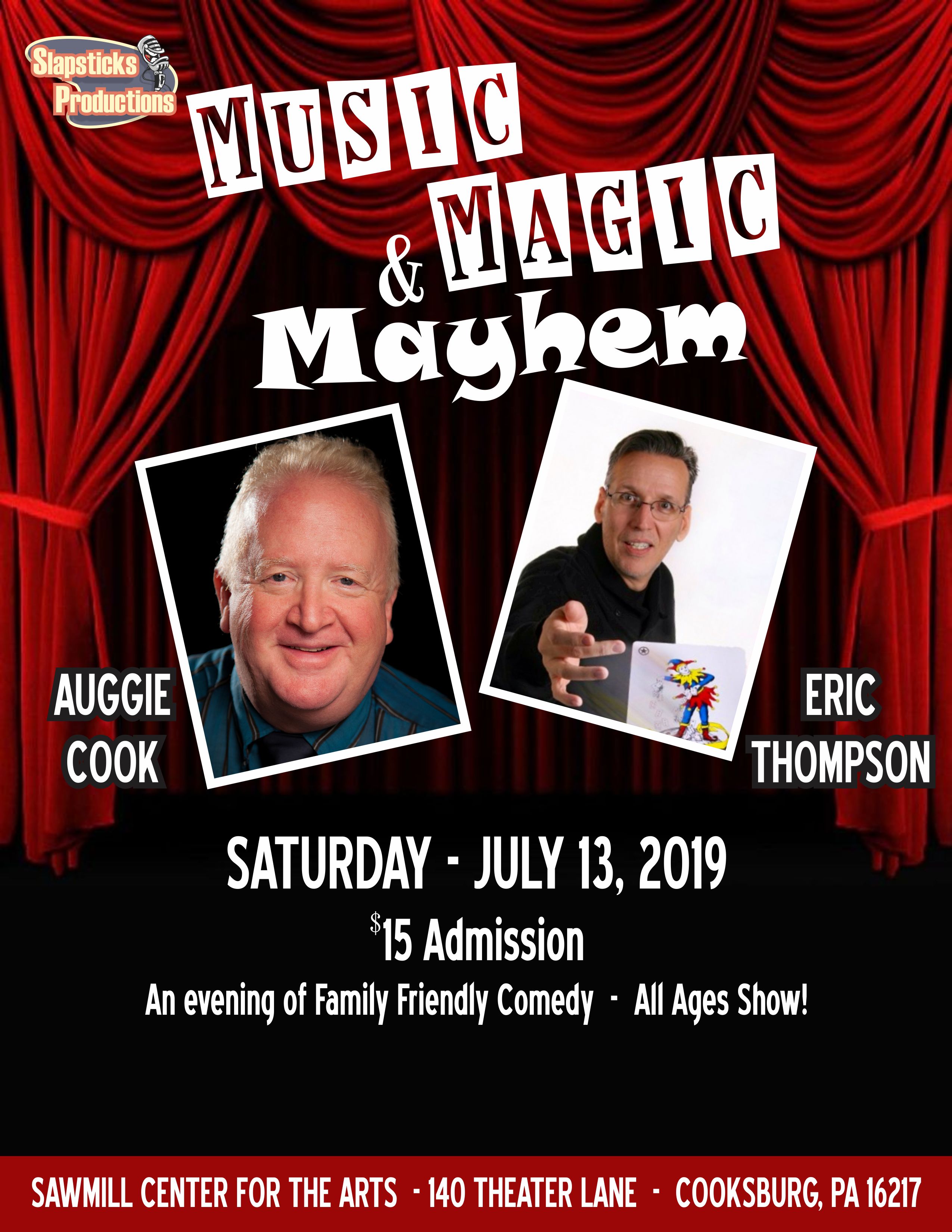 "Music Magic & Mayhem" ... an evening of Family Friendly Comedy!

Tickets: $15 
Presented by: Slapstick Productions
"Get ready for comedy musician AUGGIE COOK and madcap magician ERIC THOMPSON to tickle your funny bone with a fast-paced-interactive-family-friendly-audience-of-all-ages evening of laughs!  It's MUSIC! MAGIC & MAYHEM!"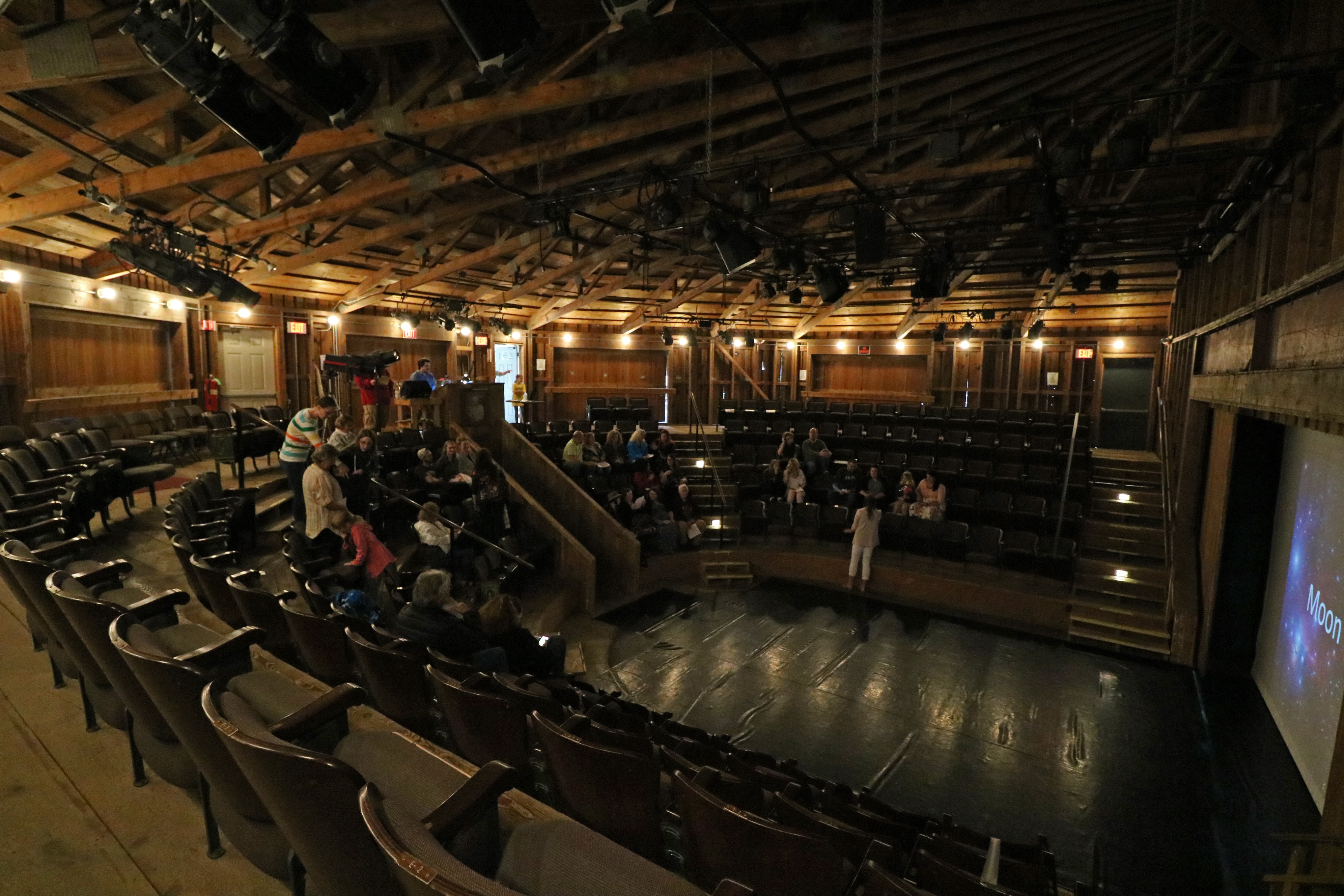 "If the Good Lord's Willing & the Creek Don't Rise"

July 18, 19, & 20, 2019 at 8 p.m.
Tickets: $15 
Presented by: Knox Community Theater
This zany comedy, in the spirit of Kaufman and Hart, centers on Doc, an eccentric old man whose house caters to all sorts of characters. Now a retired judge, he spends his days "enjoying life." When he's not flying around the countryside in his balloon or fishing in a nearby dry riverbed, he works on his books of nonsense. This prompts his daughter, Charlotte, to decide he's lost his marbles. So, conspiring with a sly lawyer, she plans to not only become his guardian but also sell his house and property. Throw in a psychologist on her first case, love sick teenagers, an irate school bus driver and an occasional artist or two and it's a madhouse! Will Doc be committed or not? Of course he offers his own defense. "You ought to try tilting at a windmill every so often," he philosophizes. "It's great exercise and a nice breeze goes with it." When he shows up at his sanity hearing dressed as a magician, his daughter and her lawyer think they have it all sewed up. However, Doc has a few surprise rabbits to pull out of the hat. Can Doc pull it off? As Leo says, "There is method to his madness." And Doc shows one and all what a little nonsense can do "If the Good Lord's Willing and the Creek Don't Rise."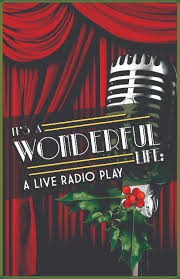 "It's a Wonderful Life - A Live Radio Play"

July 25, 26, & 27, 2019 at 8 p.m.
Tickets: $15 
Presented by: The Footlighters of Elk County
It's a Wonderful Life has become almost as familiar as a holiday classic as Charles Dickens' A Christmas Carol. Performed as a 1940s style radio play, it is the familiar saga of George Bailey, the Everyman from the small town of Bedford Falls, whose dreams of escape and adventure have been quashed by family obligation and civic duty. His guardian angel appears on Christmas Eve to save him from despair and to remind him—by showing him what the world would have been like had he never been born—that his has been, after all, a wonderful life. This radio play has all of your favorite characters: George and Mary Hatch, Clarence, Uncle Billy, Violet, and, of course, the Scrooge-like villain, Mr. Potter. This fine dramatization not only celebrates the faith of the season, it also celebrates the American philosophy of life: hard work, fair play and the love and support of one's family and community will be rewarded.
Adapted by Philip Grecian. Based on the film by Frank Capra. Produced by special arrangement with THE DRAMATIC PUBLISHING COMPANY of Woodstock, Illinois.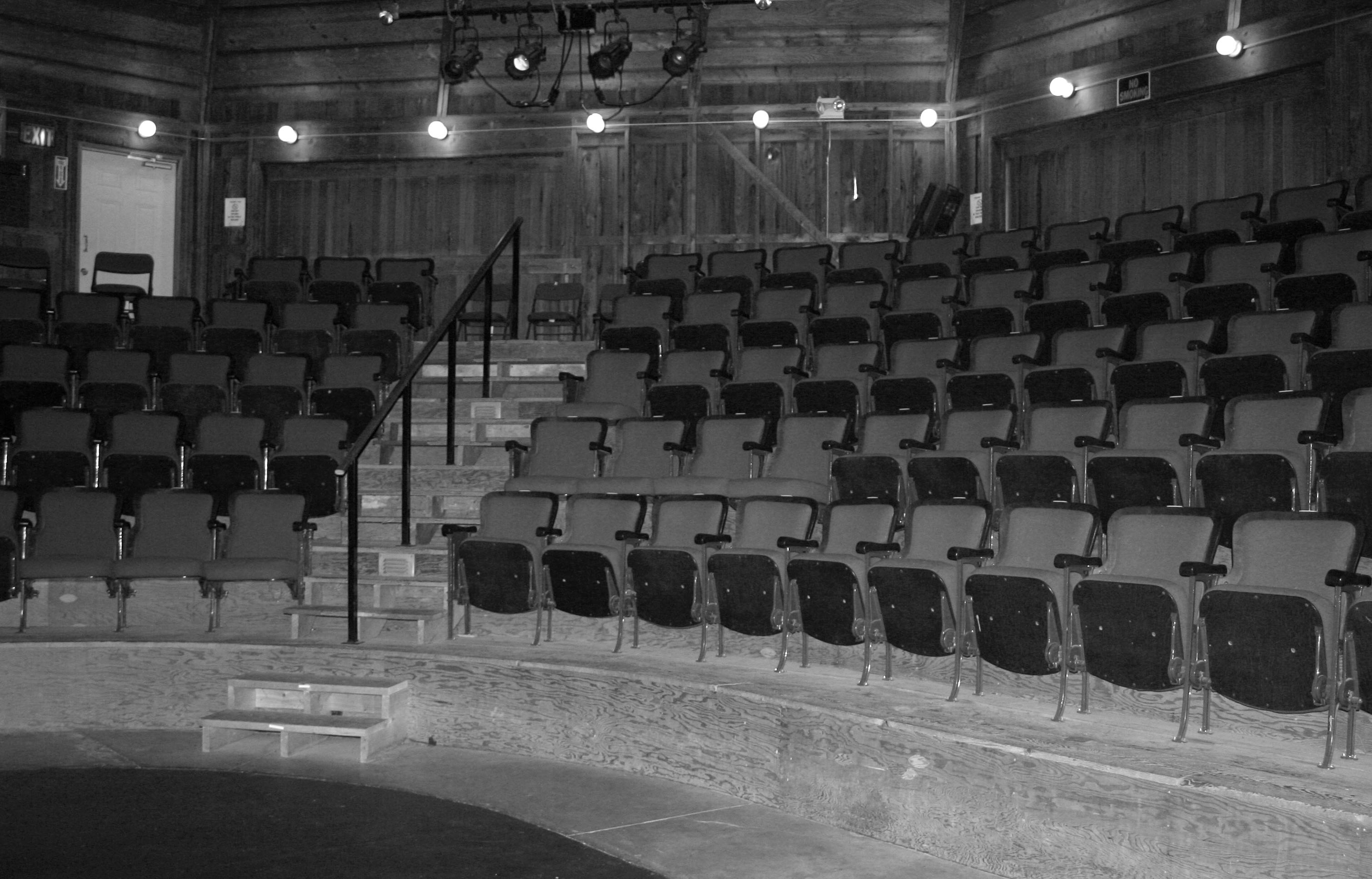 "The Wizard of Oz"

August 2, 3, 4, 8, 9, & 10, 2019
Evening Shows at 8 p.m.
Sunday Matinee on August 4 at 2 p.m.
Tickets: $15 
Presented by: Brookville Community Theater
The Wizard of Oz is the classic tale of finding your true home.  As Dorothy travels to Oz and meets new friends along the way to get home.  She finds that "Over the Rainbow" is not all she thought it would be as Ms. Gulch and the Wicked Witch of the West attempt to interfere in their journey to find where they belong.  Join Dorothy, Toto, Scarecrow, Tin Man, The Cowardly Lion and Wizard as the search for home, a brain, a heart, courage and purpose as they beat the odds to find where they belong in the world.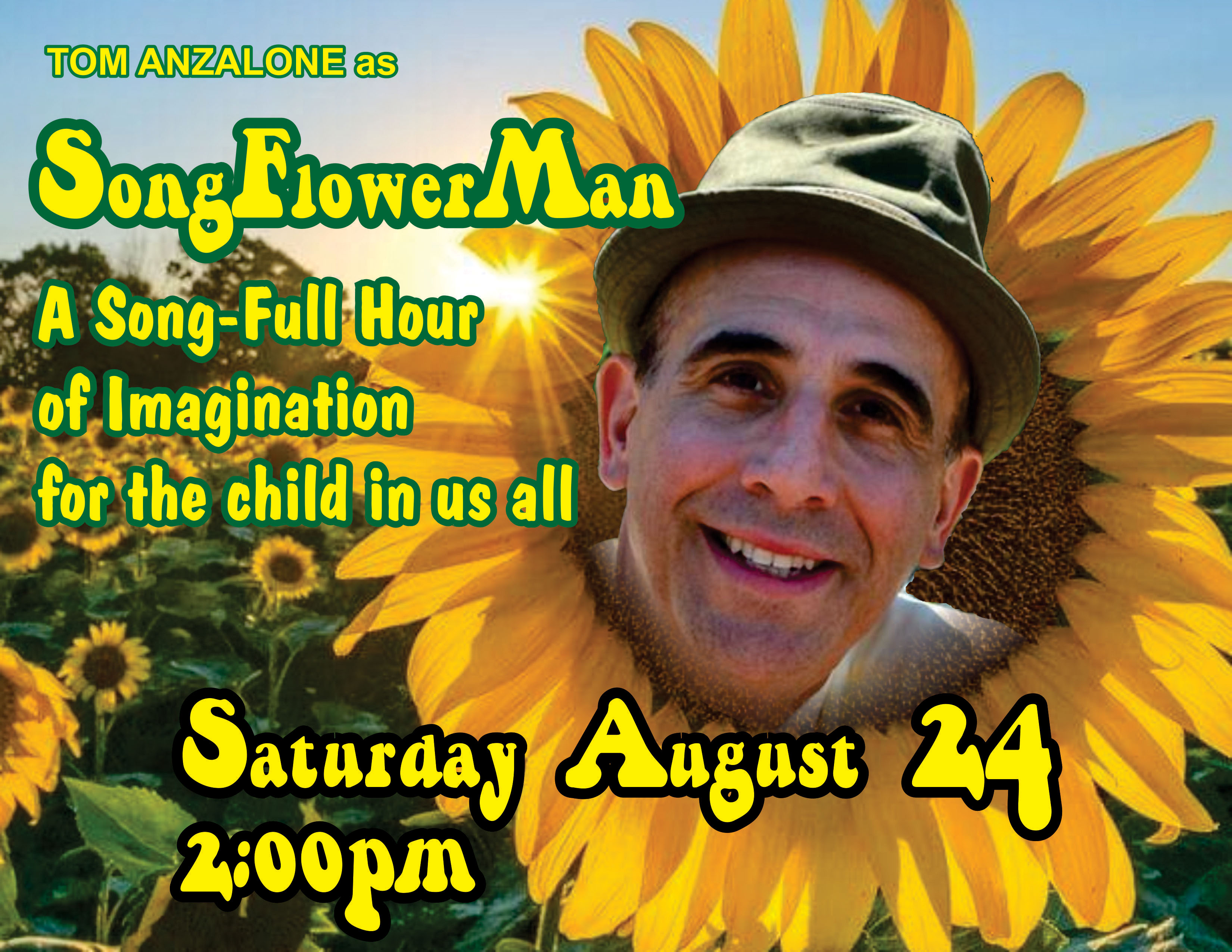 "SongFlowerMan"

Matinee on August 24, 2019 from 2 p.m.
Tickets: $15 
Presented by: Slapstick Productions
SongFlowerMan, played by Tom Anzalone, is a professional singer/songwriter.   Tom entertains audiences of all ages through his sense of humor, guitar and creative use of props. Tom studied vocal performance at West Virginia University and has performed with the Pittsburgh and Syracuse Opera Companies.  Tom began his career in Pittsburgh, PA working with Joe Negri, from the PBS Mr. Rogers Neighborhood Show.  He has collaborated, performed and recorded with various other musicians/entertainers including Frank Cappelli from Cappelli & Company on Nickelodeon and the Monongahela Duck Club band.  He also tours the country performing his original musical stand-up comedy show.  Over the past 15 years, Tom has taught and performed as SongFlowerMan throughout central New York capturing children's imagination through original as well as contemporary songs and popular American folk music.
SongFlowerMan has been featured on National Public Radio highlighting his work as a music teacher at Creative Environment Day School.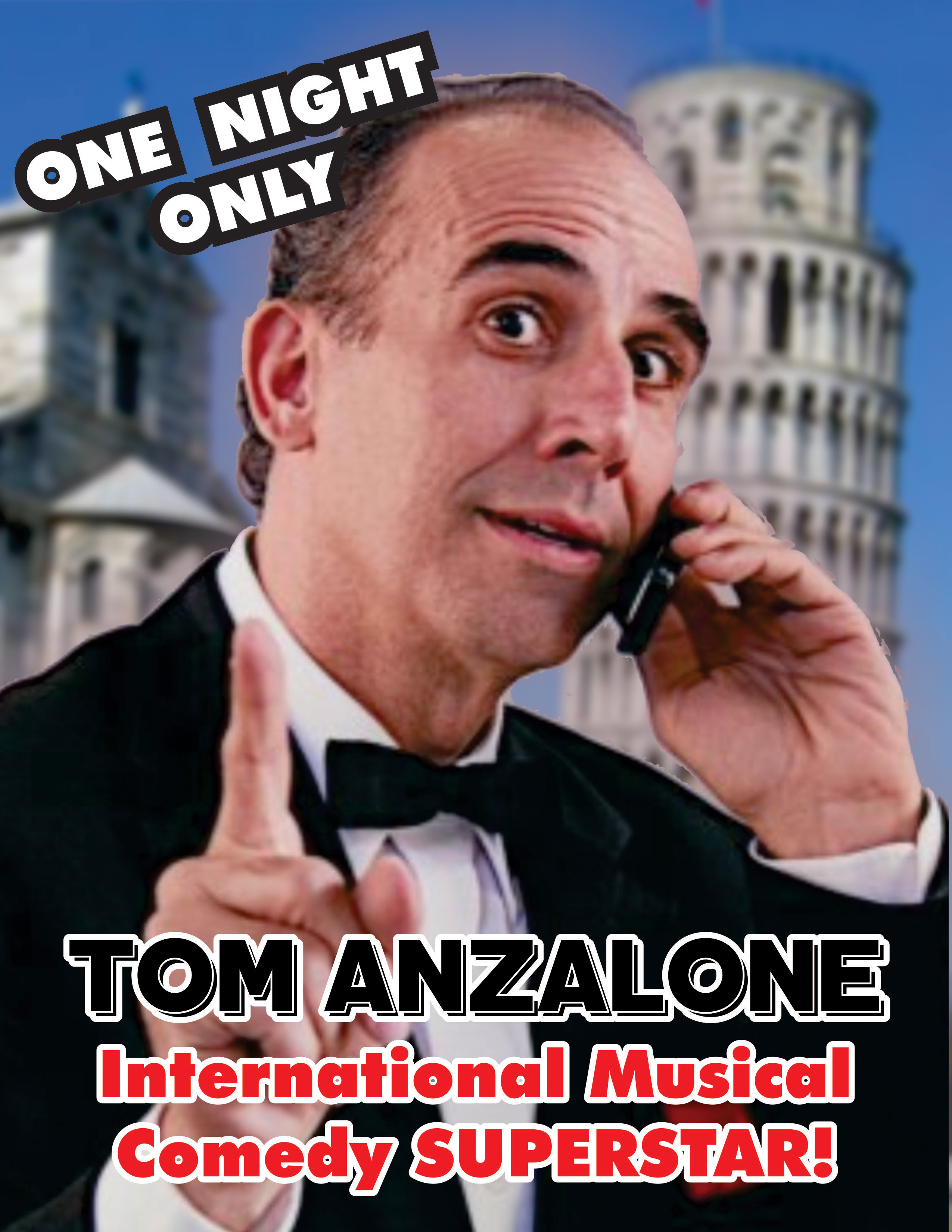 "TOM ANZALONE: International Musical Comedy Superstar!"

Tickets: $15 
Presented by: Slapstick Productions
TOM ANZALONE is a talented "International Musical Comedy Superstar", who turns his ability of singing and guitar playing into a hilariously musical-comedy revue. Tom began his career performing in musicals and operas while pursuing his stand-up comedy routine. Anzalone's impressions and parodies range anywhere from Elvis to Michael Jackson.
Whether imitating James Taylor, Bruce Springsteen or classically singing his version of "Pinball Wizard" from the rock opera Tommy to the musical stars of today like The Smashing Pumpkins, Alanis Morrisette or any other artist one might suggest, Tom has delighted audiences in comedy clubs and colleges around the country.
He's filmed a segment on the "Showtime Comedy Club Network," as well as "America's Funniest People," "Comedy Central," and of course, many radio shows and theater appearances.
With his guitar, bag of props and amazing vocal talent, every audience will be delighted with Tom Anzalone's musical ability and off beat sense of humor.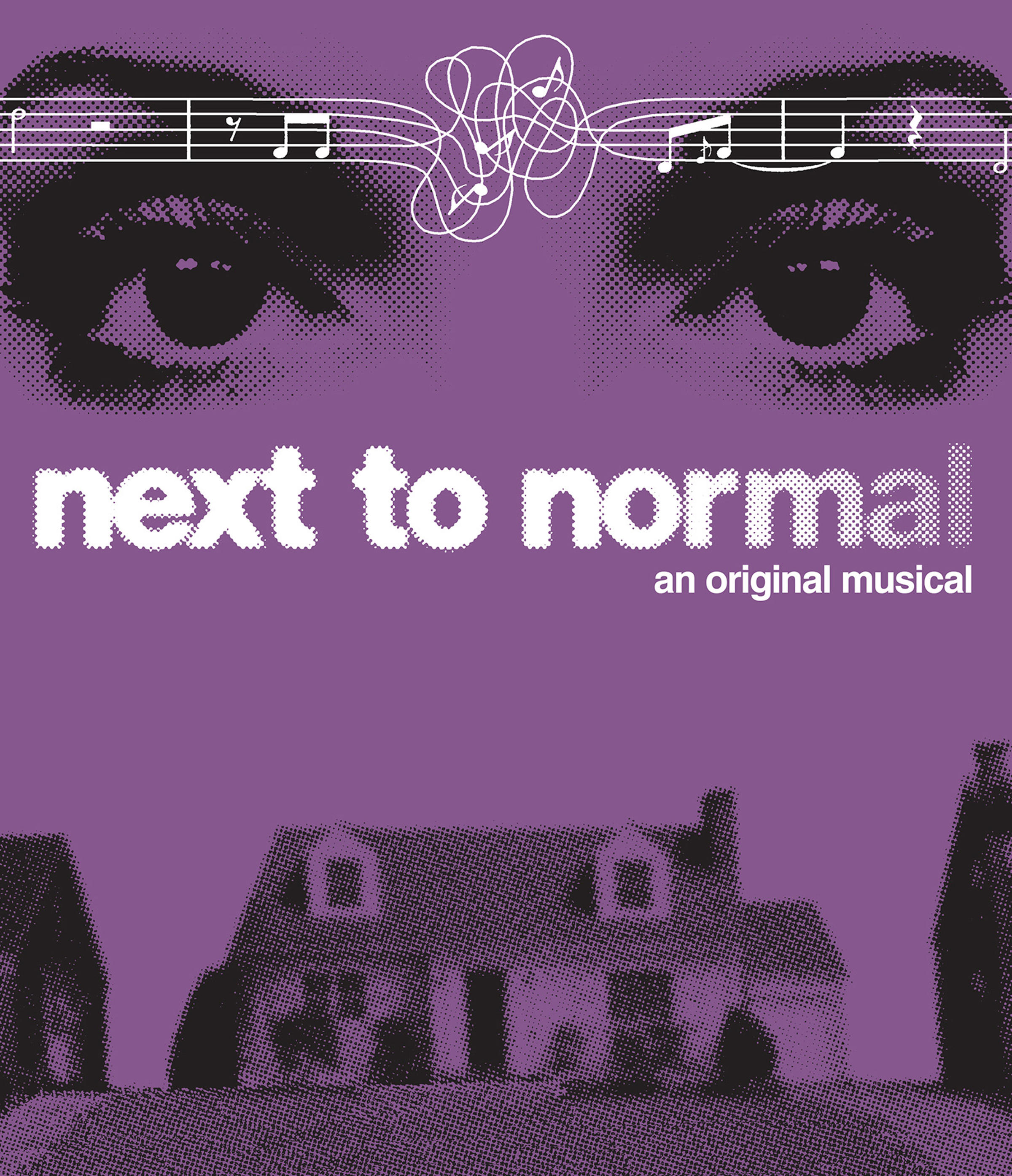 "next to normal"

August 29, 30, & 31, 2019 at 8 p.m.
Tickets: $15
Presented by: Reitz Theater Players
The Reitz Theater Players present, next to normal, a 2008 Pulitzer Prize and Tony Award winning American rock musical, with book and lyrics by Brian Yorkey and music by Tom Kitt. This musical explores how one suburban household copes with crisis and mental illness, and takes audiences into the minds and hearts of each character, presenting their family's story with love, sympathy and heart.  For mature audiences.
NEXT TO NORMAL is presented by special arrangement with Music Theatre International (MTI).  All authorized performance materials are also supplied by MTI.
Great Gift or Memorial for a Loved One
The Verna Leith Sawmill Theatre is offering the purchase of name plates to be attached to either a seat ($250) or to a plaque ($100) hung on the wall of theater.  All contributions are tax deductible. Please call us for more information.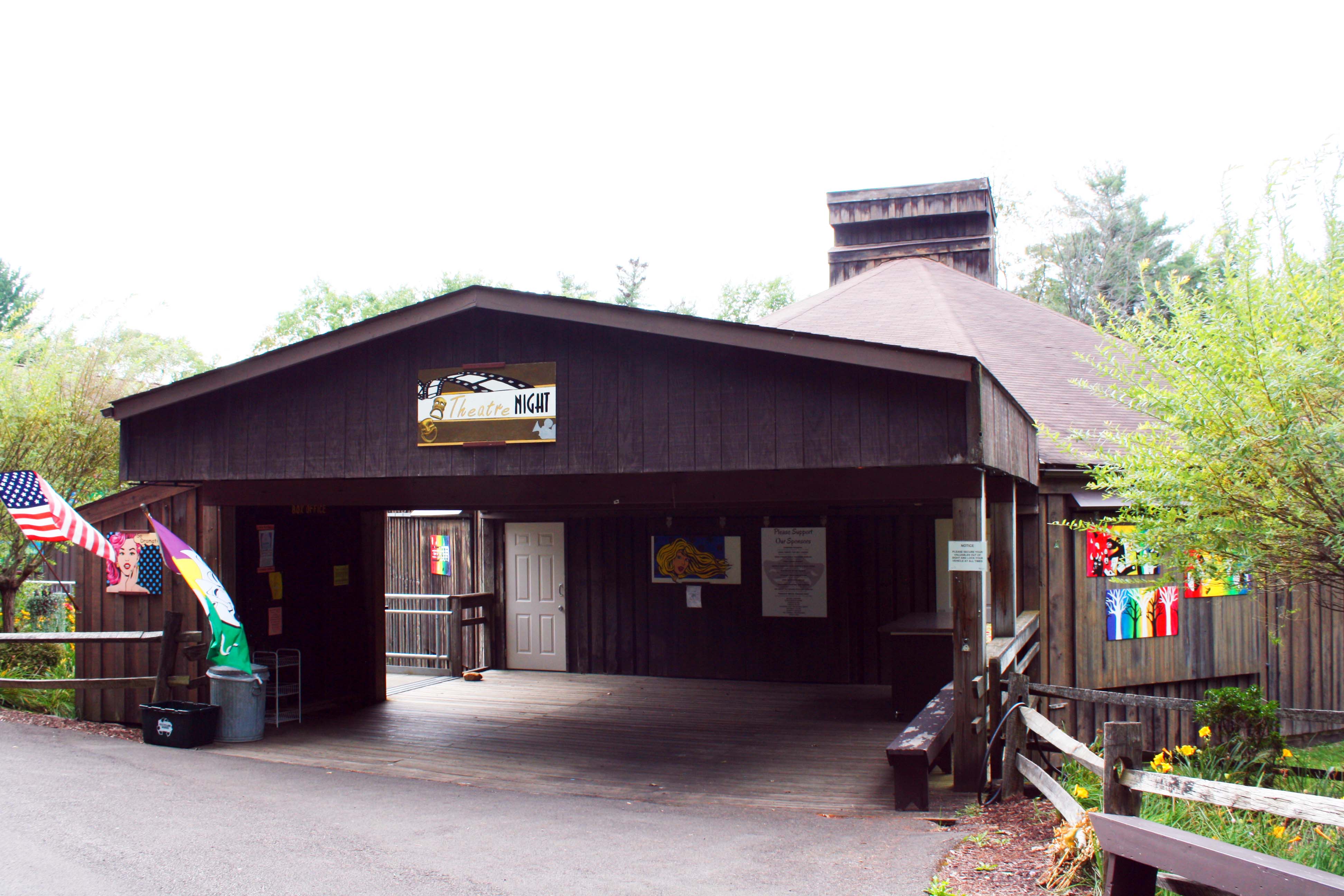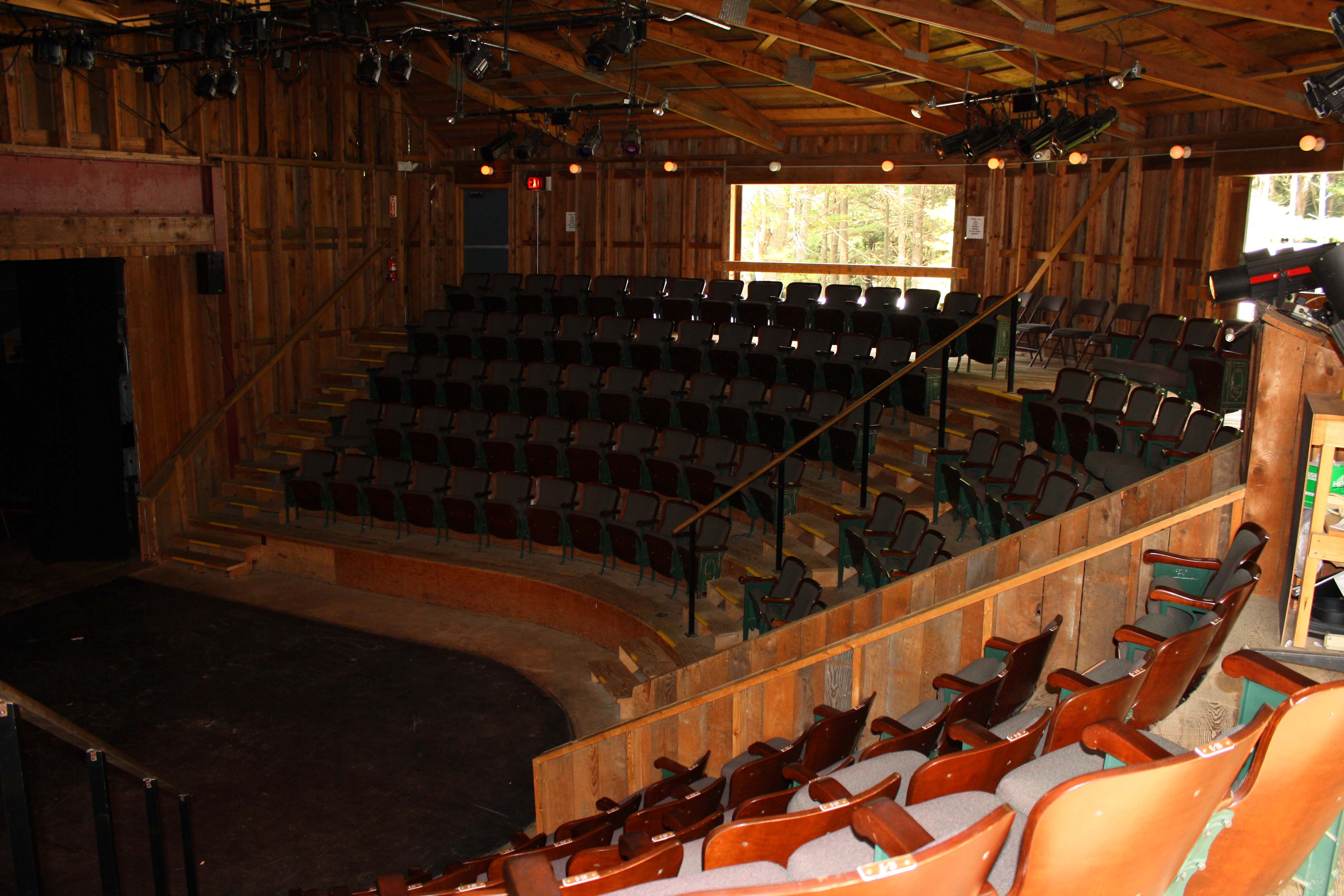 Sawmill Theatre History
In 1981, the Sawmill Theatre was opened in the museum section of the old Sawmill, using church pews and camp chairs for seating. Soon the need for a larger theater was evident.  In 1984, the Verna Leith Sawmill Theatre was constructed with monies from the Appalachian Regional Commission and Pennsylvania State Appropriations. First of it's kind in the Eastern U.S., the theater's unique hexagon shape and harmonious blend with the natural settings earned designer William Snyder the 1984 design award from the Arts Architectural Commission of Pennsylvania. Details such as professional lighting, side decks, ticket office, and interior restrooms were added in 1988. Theater patrons find themselves seated on newly refurbished seats from the Silver Fox Playhouse in Foxburg.  Offering mystery, comedy, and major Broadway musicals, Northwestern Pennsylvania theater groups perform from late May through mid-September.